Alpaca, 2009.
photo taken at Krystal Acres Alpaca Farm, San Juan Island, WA.
Charlene L. Amsden, photographer
We spent several weeks this Summer in Friday Harbor on San Juan Island. Mostly Amoeba was working — teaching at the Friday Harbor Labs — and I wandered around taking photographs. Occasionally Amoeba set aside his microscope and took a jaunt. One of those jaunts led us to Krystal Acres Alpaca Farm where we got to participate in feeding time. It also took us to the gift shop where we got to participate in shopping.
Resumes out. No phone calls in.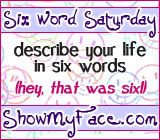 Here's how it works – describe your life (or something) in a phrase using just six words.
For more information, ask Cate.
~*~